Standard (Kenya)
Kitengela police nab two suspects with elephant trophies
By PETERSON GITHAIGA | September 13th 2020 at 11:04:18 GMT +0300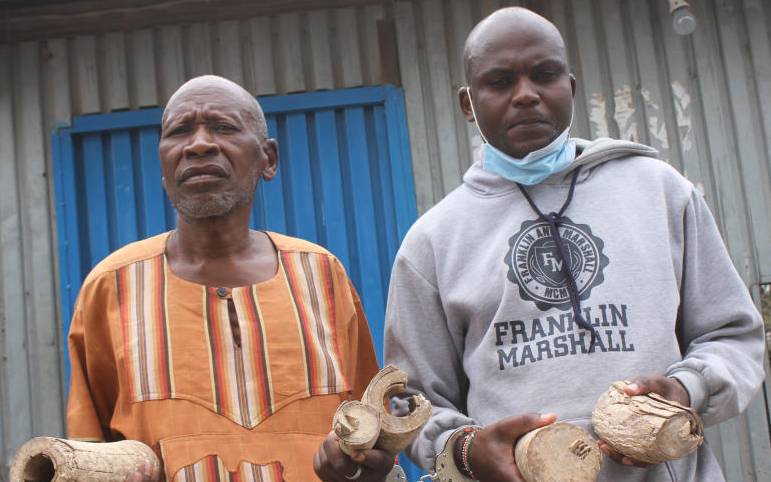 Police in Kitengela, Kajiado County, are holding two suspects found in possession of five elephants trophies.
The two were arrested in a hotel as they prepare to hand over the consignment to the buyer.
According to the Kajiado County commander investigating office Isaack Meme, the trophies with a street value of Sh 600,000 were stuffed in a fifty-kilogram sack that contained maize.
"Acting on Intelligence, a Multi-agency team arrested the two- a Kenyan and a foreigner-who were pretending [that they were transporting] maize from Migori to Kitengela. They have been detained," said Meme.
Speaking to the media at the Kitengela Police Station, where they are detained, Meme said one believed to be a government officer and who was to receive the trophies managed to escape on realising that his two colleagues had been cornered.
And after interrogating them, the two suspects aged 66 and 28 revealed that they had brought the trophies weighing 6.1 kg from Migori County. They will be arraigned in court on Monday.
In another operation conducted by another group of officers in Enkorika along Kajiado-Mashuru road, a motorcycle ferrying game meat weighing approximately 300 Kgs was intercepted and the products seized.
"Three suspects who had earlier killed several grant's gazelles and a dik-dik managed to escape but efforts to nab them are ongoing," said Meme.
The arrest came barely a few weeks after a primary school teacher was arrested by detectives from the Directorate of Criminal Investigations (DCI) and Kenya Wildlife Service (KWS) possessing two elephant tusks in the same area.
The teacher was nabbed at the weekend alongside four other suspects while looking for a potential customer to buy the tusks.
Their arrest came hardly a month after KWS reported that an elephant had been killed by suspected poachers around Emotoroki area in the county.
The suspects were using a vehicle and motorcycle owned by the deputy school  head.