Not surprisingly, a lot of these accounts base themselves on criticisms of the lifting of the hunting ban rather than analysing the reasons and the possible benefits as well as views of those opposed. The anti-sustainability and anti-hunting Conservation Action Trust has its views published as though fact – it is plain wrong that resumption of hunting will affect tourism. Didn't affect it before 2014 and doesn't affect Namib ia or South AfricaKS
Guardian (UK)
Botswana condemned for lifting ban on hunting elephants
Country with Africa's largest elephant population says its growth is affecting farmers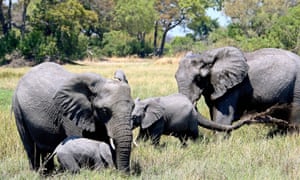 Conservationists have reacted with outrage and concern to a decision by Botswana to lift its ban on elephant hunting.
The southern African country said the move was justified by an increase in population and its impact on farmers' livelihoods.
"The whole world is turning away from hunting. It is increasingly seen as an archaic practice. This is very, very damaging to the image of Botswana as a global leader in elephant conservation," said Dr Paula Kahumbu, an expert and activist based in Kenya.
Others called the decision "disappointing".

The former president Ian Khama, a keen environmentalist, introduced a prohibition on elephant hunting in the southern African country in 2014.
But lawmakers from the ruling Botswana Democratic party (BDP) have been lobbying to overturn the ban, saying numbers of the animals have become unmanageable in some areas.
The current president, Mokgweetsi Masisi, took over from Khama last year and a public review began five months later, with reports suggesting growing political friction between Masisi and his predecessor.
The country's environment ministry said in a statement that a cabinet committee review found that "the number and high levels of human-elephant conflict and the consequent impact on livelihoods was increasing.".
"The general consensus from those consulted was that the hunting ban should be lifted," it added, vowing that hunting would be restarted "in an orderly and ethical manner".
Botswana has the largest elephant population in Africa, with more than 135,000 roaming freely in its unfenced parks and wide open spaces.
Some experts say the number of elephants in the country, renowned as a luxury safari destination, has almost tripled over the last 30 years, and that the population could now be more than 160,000.
Farmers struggle to keep elephants out of their fields, where they eat crops and can kill people, making the move to lift the hunting ban a potential vote winner among rural communities in the run-up to elections in October.
Experts say the move would be counterproductive as hunting elephants makes them fearful and aggressive, exacerbating conflict with local communities.
There are also widespread concerns among environmentalists that Botswana's decision is a precursor to a concerted effort to allow ivory to be bought and sold.
This would be have a "catastrophic effect on elephants across Africa", Kahumbu said.
Many of Botswana's elephants roam across borders into Namibia, Zambia and Zimbabwe.
All four countries have called for a global ban on the elephant ivory trade to be relaxed due to the growing number of the animals in some regions.
"We cannot continue to be spectators while others debate and take decisions about our elephants," Masisi told a meeting of the countries' presidents this month in Botswana.
While elephant numbers have increased in some areas, over the past decade the population of elephants across Africa has fallen by about 111,000 to 415,000, largely due to poaching for ivory, according to the International Union for Conservation of Nature (IUCN).
Zimbabwe said this month it had sold nearly 100 elephants to China and Dubai for a total price of $2.7m over six years, due to overpopulation.
According to Zimbabwe's ministry of information, it is almost 13 years since the country's last commercial sale of ivory. "Our ivory stockpile is worth over $300m [£235m], which we can't sell because countries without elephants are telling those with them what to do with their animals," Nick Mangwana, the ministry's permanent secretary, said.
Zimbabwe will also make a separate appeal at the conference for permission to sell some of its elephants, as conflict between people and wildlife escalates.
The country has a booming elephant population, which is increasingly coming into contact with people. About 200 people have died from elephant attacks in the past five years.
Botswana last year rejected claims by a leading conservation charity that there had been a surge in elephant poaching.
The African elephant, lion and hippo appear on the International Union for Conservation of Nature's (IUCN) "red list" of animals at risk of extinction, and needing greater protection.
IOL.za (opinion piece by the anti-hunting Conservation Action Trust)
Botswana lifts hunting ban in massive blow to country's tourism
Botswana – The Botswana government announced on Wednesday they are "lifting the hunting suspension in an orderly and ethical manner". A decision that seemed inevitable, but nevertheless is an enormous blow for Botswana's tourism and conservation reputation.
Since President Masisi's announcement last year proposing lifting the hunting ban, this whole process has been a well-orchestrated election campaign, casting hunting as the solution to Human Elephant Conflict, rural poverty and elephant population control.
The Botswana Democratic Party has been in power since independence in 1966 but dropped to a record low of 46% of the voters' support in the last election. By lifting the hunting ban, Masisi hopes to retain the rural votes that he desperately needs to win the elections in October.
The main justification for lifting the hunting ban has been the supposedly increasing levels of Human-Wildlife Conflict (HWC), particularly involving elephants. There is no doubt that HWC is a real problem to the people living with wildlife on a day to day basis and this indeed needs to be addressed.
However, there is no research-based evidence that suggests HWC is actually increasing. Furthermore, trophy hunting can never and should never have a such an impact on elephant or other wildlife densities that it would actually reduce HWC. Sensational media articles have only served to inflame a volatile situation
Communities should be assisted in finding better and more sustainable ways to deal with elephants and other wildlife.
The government is now not only talking about lifting the ban on elephant hunting, but also predators, as the government claims predator numbers are also increasing.
Again, there is no scientific evidence to back up any of these statements. Many areas in Botswana are still trying to recover from overhunting in the 1980-90s, particularly of the lion population. The mature elephant bulls that would be of interest to the trophy hunter are under siege from increased poaching with recent surveys indicating a material drop in numbers of bulls.
Masisi claims the hunting ban had negative impacts on the livelihood of local communities, which is to be expected as the vast majority of ex-hunting blocks in Botswana were never successfully put out for tender and hence were not occupied by the photographic tourism industry, a number were in fact retained by the existing hunting concessionaires.
Tourism, the second largest industry in Botswana, was barely consulted in Masisi's Social Dialogue process and has been cowed by statements such as "you know which side your bread is buttered on" Clare Doolan (Sales & Product Manager – Safari Destinations) says "we believe more creative solutions need to be found for communities impacted by HEC, by giving these communities access to tourism revenue through diversification of the tourism product and increasing community participation".
National Geographic
Botswana lifts ban on elephant hunting
After five years, hunting will now be allowed in Botswana, home to about a third of Africa's savanna elephants.
---
After a five-year suspension, the government of Botswana has decided once again to allow sport hunters to kill elephants, according to a statement issued on May 22 by the Ministry of Environment, Natural Resource Conservation and Tourism.
Botswana is home to more than 130,000 elephants—about a third of Africa's remaining savanna elephants—and it appeared to have largely escaped the recent ivory poaching crisis. Continent-wide elephant numbers dropped by 30 percent between 2007 and 2014, according to the Great Elephant Census, an 18-country aerial elephant count conducted by Elephants Without Borders that was completed in 2016 and funded by Vulcan.
While hunting elephants is now legal in Botswana, American sport hunters may not rush there because it's unlikely they'd be able to bring their trophies home. In 2017, a controversy erupted after the U.S. Fish and Wildlife Service decided to lift the ban on elephant trophy imports from Zimbabwe and Zambia. After President Donald Trump tweeted his dissatisfaction with the decision, the Fish and Wildlife Service reversed course and decided to evaluate all applications to import elephant trophies from all countries on a case-by-case basis. Since then, no permits have been issued.
In June 2018, the government of Botswana put together a committee to advise on whether the trophy hunting ban should be lifted. Implemented in 2014 under then-President Ian Khama, the goal was to better conserve species like elephants. "There was little accountability from the community trusts" managing hunting at the time, said Elephants without Borders director Mike Chase, in an interview with National Geographic this February, when the proposal was being debated. "The villagers didn't benefit from the hunting quota and the fees that the hunters were paying."
Nonetheless, the committee—which included local authorities, NGOs, researchers, industry representatives, and others—found that "there is a negative impact of the hunting suspension on livelihoods, particularly for community-based organizations" that were previously benefiting from hunting.
It also found that the Department of Wildlife and National Parks was taking too long to intervene and control destructive elephants, which can destroy a season's worth of crops in a single night.
"The general consensus from those consulted was that the hunting ban should be lifted," the statement says. "On the basis of these issues, the Government has reflected and assessed the recommendations, and lifted the suspension."
"You have to consider the international backlash"
"We can have a sustainable quota, which will have negligible impact on the population," Chase said. "But you have to weigh that up and consider the international backlash…and how that may undermine our economy, our jobs, and our reputation for being at the forefront of conservation."
Still, he empathizes with the communities that face the brunt of elephant damage and have advocated for the reinstatement of hunting. He notes that elephants' range has expanded dramatically in Botswana because drought has caused them to wander farther in search of water, meaning they're coming into contact with humans more often.
"Sharing their lives with a five-ton animal that threatens their lives, destroys their crops, damages their properties—I share their anguish," he said. "When you've tried all kinds of alternatives…and they're still dangerous, the animal has to be destroyed. At least the communities should be able to benefit by letting a hunter come in and pay to do it," he said in February.
Khama has criticized the move as purely political, intended to shore up rural votes ahead of the October election.
Dan Ashe, the head of the Fish and Wildlife Service during the Obama administration and now the president and CEO of the Association of Zoos and Aquariums, says that while he personally doesn't like the idea of hunting elephants for sport, it's important to recognize Botswana's authority to regulate its own wildlife.
"Botswana always enjoyed a very good standing with the U.S. Fish and Wildlife Service, and a reputation for professional management and relatively corruption-free government," he says, adding that when he ran the service, "we had a professional confidence in Botswana."
Many conservationists are opposed to elephant hunting, both because of the decreasing number of elephants continent-wide and because of ethical concerns—there is no doubt that elephants are capable of empathy and emotion.
Hunting will be reinstated "in an orderly and ethical manner" with more details to come, the government statement says.
Wildlife Watch is an investigative reporting project between National Geographic Society and National Geographic Partners focusing on wildlife crime and exploitation. Read more Wildlife Watch stories here, and learn more about National Geographic Society's nonprofit mission at nationalgeographic.org. Send tips, feedback, and story ideas to ngwildlife@natgeo.com.