More war, war, war rhetoric in the discussion of the illegal wildlife trade and conservation. Totally wrong approach. Fight a war against communities who have to live with wildlife and that wildlife will disappear. Work with communities, not against them. KS
Independent (UK)
Army, royalty and presidents intensify the war on poachers at illegal wildlife trade summit
Pledges made to step up to 'one of the greatest challenges facing humankind' as Britain launches new African taskforce
James Cowen joined the Army intent on fighting the bad guys killing people in war zones. If anyone had told him a posting to Africa would transform him into a passionate wildlife advocate, he probably would have thought they were under the influence of black magic.
"I saw an elephant or family of them every day for four months, and every single time it took my breath away. And that's what we're fighting for – for experience to endure, that we wouldn't be the last people to catch our breath when we see an elephant in real life," Major Cowen says.
The fight he refers to is just as real as one against terror groups; indeed, in the complex, vicious circles of corruption, arms sales and organised crime, wildlife poaching is no soft side issue, but a key component.
It's hailed time and again by political leaders, economists and charities alike as an "existential" one; the message being that the threat of extinction of the world's most majestic species does not just imperil wildlife groups being killed at record tragic rates, but also humanity itself.
Major Cowen is one of the 1,000 or more people who came to the fourth global conference on the illegal wildlife trade aimed at finding ways to – if not halt – at least significantly curb the seemingly relentless assault on the world's wildlife, from elephants, rhinos and tigers to woodlands and threatened plant species.
He has just returned from Malawi, where he led the 1st The Queen's Dragoon Guards in training African rangers to combat the killers. "I went into it with no idea about conservation but by the time I had acclimatised to the temperature it became a passion, I became a conservationist. It was great – I loved it," he enthuses.
The wildlife warriors gathered in London have come from more than 80 nations across the globe – from all across Africa, Nepal, Mongolia, Vietnam – considered by many a byword for the evils of poaching – Cambodia, the US and New Zealand, among others. They are heads of state, royalty, foresters, politicians, think-tank experts and pop stars.
They presented reports, made pledges to follow the flow of big money, talked about collaboration and remembered rangers who have lost their lives protecting species.
But the truth is that in just one day of the two-day conference an average of 55 elephants would have been killed for their tusks.
The Duke of Cambridge told the delegates how rhino horns, pangolin scales and big cat body parts are still easy to find in street stalls all around the world. "We are not yet seeing enough criminal convictions for wildlife offences, and all too often punishments are too lenient. And all this means that thousands of local communities are being deprived of their most valuable natural resources and a route out of poverty," he said.
"It is heartbreaking to think that by the time my children George, Charlotte and Louis are in their twenties, elephants, rhinos and tigers might well be extinct in the wild.
"I for one am not willing to look my children in the eye and say that we were the generation that let this happen on our watch."
He added: "I am not asking anyone in this room to prioritise efforts to fight the illegal wildlife trade above drug trafficking or money laundering … But I am asking you to see the connections. To acknowledge that the steps you take to tackle illegal wildlife crime could make it easier to halt the shipments of guns and drugs passing through your borders."
A raft of new measures were unveiled in the UK to give the conference more impact, including a new coalition of global political leaders, conservationists hoping to tackle the illegal ivory trade.
The Ivory Alliance 2024 group, chaired by environment secretary Michael Gove, will attempt to persuade at least 30 countries to make new pledges to ban domestic ivory sales by the end of 2020. The coalition will also seek tougher punishments.
There will also be a new British military anti-poaching taskforce in Africa.The move, backed by £900,000 of new funding, will involve training more rangers just as Major Cowen has been doing, to track and prosecute poachers, using intelligence mapping and interception tracking tactics.
So far this year the British Army has trained 84 "ecoguards" in Gabon, a number that will double by the end of the year, and 120 rangers in Malawi.
Defence secretary Gavin Williamson said: "As the British Army takes its world-renowned training further across Africa, those responsible for this abhorrent practice should be looking over their shoulders."
Foreign secretary Jeremy Hunt described the task of halting poaching as "simply to address one of the greatest challenges facing humankind".
"How can we protect the magnificence of the natural world from the criminal gangs who threaten human beings just as surely as they plunder the planet?"
The new UK project – hailed as the largest known project of its kind in the world to crack down on the profits from illegal wildlife trade – will also investigate and seize assets of wildlife crime kingpins in east and southern Africa. At the same time, more than 20 banks signed up to a new wildlife finance taskforce that will clamp down on money-laundering by poaching gangs.
HSBC, Barclays and Royal Bank of Scotland were among those that agreed to train staff to spot transactions linked to profits from animal parts.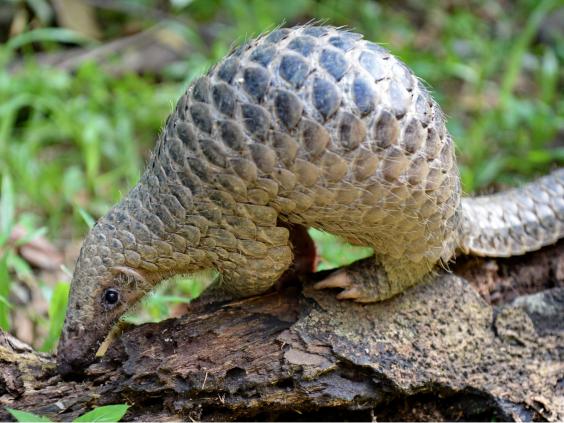 Environmental crime, which includes the illegal wildlife trade and illegal logging, is the fifth most lucrative serious organised crime and is thought to be worth up to £17 billion a year, by official estimates.
As endangered animals – both dead and alive – are bought and sold on an industrial scale, tusks, horns and bones are ground down into fake medicines; paws, skins and tails are turned into worthless ornaments and jewellery.
But conference delegates agreed the illegal wildlife trade not only threatens some of the world's most iconic species with extinction but also damages economic growth and the livelihoods of vulnerable rural people.
And the illegal ivory trade worldwide has more than doubled since 2007, according to the Convention on International Trade in Endangered Species (Cites), while Mr Hunt highlighted a fivefold increase on a century ago in the human population, putting further intense pressure on habitats.
WWF promoted its petition calling on governments worldwide to make stronger efforts to tackle corruption, offer better support to rangers and close all ivory markets.
The presidents of Uganda, Gabon and Botswana were among dozens of speakers hailing progress in their countries while promising even tougher measures on poachers and their crime gangs.
However, Cites figures show most African elephant poaching happens in Central Africa, where poaching rates are twice the continental average, as well as Tanzania and Mozambique.
Zimbabwe sends baby elephants to China, where conditions are suspected of being inadequate for the animals' needs, but no one from the Zimbabwean government was speaking at the conference.
Meanwhile, pockets of progress and cause for optimism exist, in "islands" across the continent run by African Parks.
In national parks in Chad, Democratic Republic of Congo, Rwanda, Zambia and Malawi, the non-profit organisation has reintroduced elephants and other species to create thriving populations.
Frances Read of African Parks explained: "The Majete Wildlife Reserve, for instance, was the first park we took on, in 2003, and it was empty – all poached out.
"Today there are over 12,000 animals there after we reintroduced them from around Malawi and South Africa. It now has the big five and we've not lost an elephant or rhino there since 2003."
The keys to success, she insists, are public-private partnerships, and community engagement, which extends to education and healthcare such as an anti-malaria programme.
"It's about addressing social challenges and providing opportunities for people to make them less interested in hunting and poaching," she says.
"The scale of the problem can be so overwhelming that people tune out but this shows conservation success pockets generate good news."
Major Cowen is a case in point of what happens when someone does tune in.
"Having seen the beauty of these animals up close, and how at risk their survival is due to poaching, we are more determined than ever to stop these criminals in their tracks," he says.
Before the conference, TV presenter Ben Fogle warned time was running out, and called for governments to tackle poaching as urgently as other day-to-day priorities.