Maritime Executive
The Environmental Investigation Agency (EIA) has released a report Exposing the Hydra: The growing role of Vietnamese syndicates in ivory trafficking documenting the findings of a two-year undercover investigation.
Investigators successfully infiltrated several ivory trafficking syndicates operating in Mozambique, South Africa, Malaysia, Laos, Cambodia and Vietnam, building a detailed picture of how these criminal organizations are structured, how they cooperate with one another and how they also traffic other endangered species such as rhinos and pangolins.
In contrast to China, which closed its domestic legal ivory market in January and stepped up enforcement against ivory trafficking, the Government of Vietnam has not demonstrated serious commitment to tackling wildlife crime, says the organization. Instead, the past decade has seen Vietnam serve as a prominent transit route for large ivory shipments to China as well as overseeing a growing carving industry and one of the world's biggest markets for ivory sales.
The report states that since 2009, 56 tons of ivory have been seized in Vietnam and a further 20 tons linked to Vietnam seized in other countries. This is equivalent to ivory sourced from approximately 11,414 elephants.
EIA estimates that since 2015 the ivory traffickers identified during the course of their investigation have been linked to seizures totaling 6.3 tons of ivory and 299 kilograms of rhino horn, including the recent record seizure of 50 rhino horns in Malaysia in August 2018. Between January 2016 and November 2017 there were at least 22 successful shipments of ivory from Africa, with an estimated weight of 19 tons and potential revenue of $14 million.
The report cites some maritime examples of the trade including:
Danang, Vietnam 2015
In August 2015, officers at Tien Sa port made three separate seizures of ivory tusks. The first case involved 700 kilograms of ivory and rhino horn in two containers shipped from Mozambique and discovered hidden inside blocks of fake stone. A few days later, another 2.2 tons of ivory was detected concealed inside containers of timber sent from Nigeria. Both shipments were intended for the same Vietnamese company. This was followed by the seizure of another ton of ivory and four tons of pangolin scales concealed in a shipment of beans loaded at Port Klang, Malaysia.
Phnom Penh, Cambodia 2016
In December 2016, Cambodian customs officials at the inland cargo terminal in Phnom Penh discovered 1.3 tons of ivory and other illegal wildlife products concealed within hollowed-out square logs and sealed with wax. The shipment had originated in Mozambique. Documents revealed that the recipient was a company owned by Vietnamese national. Media reports linked the company to a previous ivory seizure which had occurred at the main port in Ho Chi Minh City, Vietnam. Later that month, Kenyan officials at the port of Mombasa seized almost two tons of ivory from a container which had been recalled to the port after leaving for Cambodia. The ivory tusks were once again found concealed inside hollowed-out logs. In December 2017, at the Cambodian port of Sihanoukville, police seized almost a ton of ivory tusks hidden inside logs in three shipping containers. The consignment had arrived from Mozambique a year earlier but had not been claimed.
The syndicates conceal ivory with legal goods such as timber, agricultural products or plastics to avoid detection. The following table provides more information about these concealment tactics.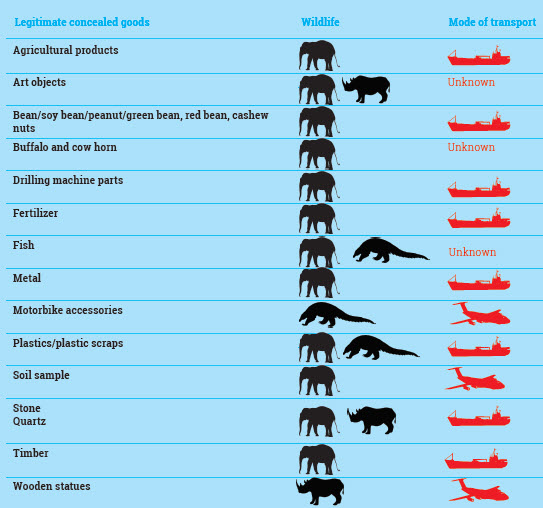 The EIA has identified a number of major routes in use by the Vietnamese syndicates to traffic ivory from African countries through Malaysia and Laos before reaching Vietnam for sale in-country or for onward transportation into China. These make use of sea, air and land transport.
Mozambique is a major source of ivory, states the report. Other possible source countries include South Africa, Tanzania, Zimbabwe, Angola, Malawi and Nigeria. Ivory is shipped out of Africa to Vietnam via Mozambican ports, with Pemba, Nacala and Beira as prominent ports of export. Although traders consider the direct route from Mozambique to Vietnam as difficult and risky, some traders do attempt this, in particular to Hai Phong port and smaller ports in the north of Vietnam.
Most syndicates, however, avoid the direct route and use transhipment locations to obscure the origin of the shipments. Malaysia is one such key transhipment country. Ivory destined for Vietnam is routinely cleared through Johor Port and is transferred to Kuala Lumpur International Airport after being repackaged, states the report. The ivory is then transported to Laos' Wattay International Airport by air cargo before being transferred overland into Vietnam.