Alwihda
Abraham Ndjana Modo,
February 27, 2018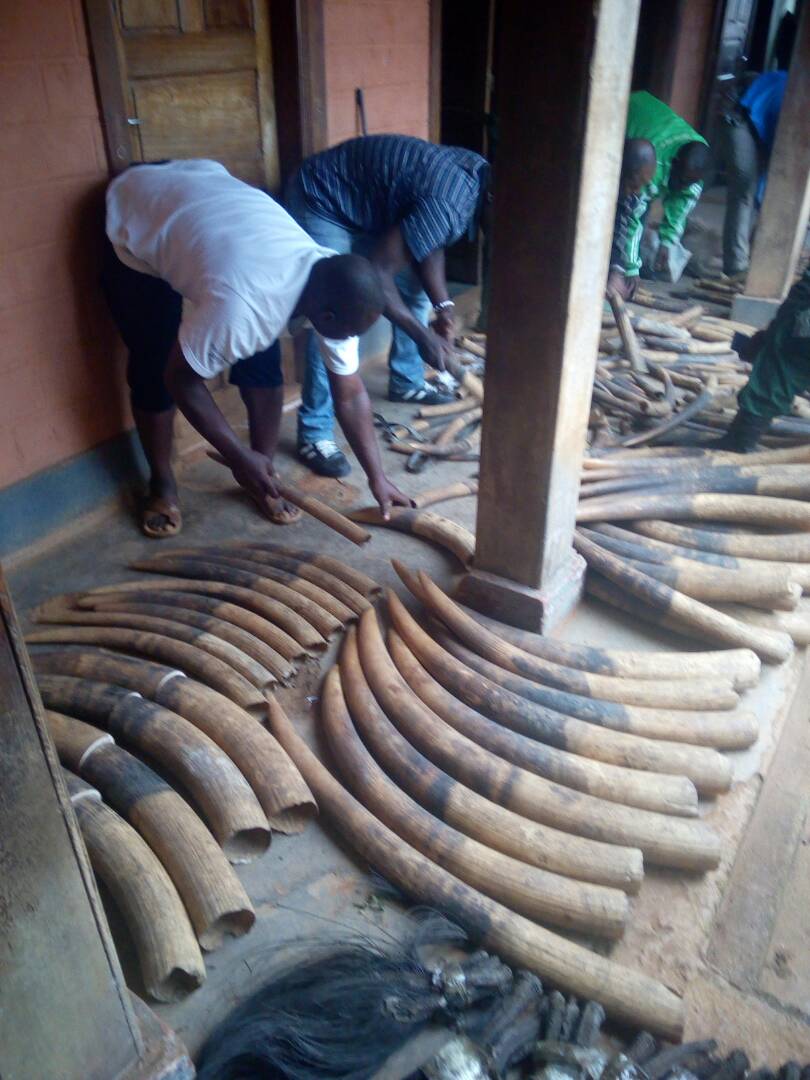 The prosecutor of the Republic of Djoum asked that the court call a
gendarmerie officer during a future hearing scheduled for March 6, 2018, in
a case of trafficking 216 ivory tusks.
The case, which will return for the third time at the hearing, was brought
before the court by wildlife administration officers following the arrest
of two suspects in the city of Djoum.
This was followed by the seizure of 216 ivory tusks and 81 elephant tails
in the car they drove on  December 11, 2017.
The two men are being prosecuted for illegally holding and marketing fully
protected wildlife.
The colonel, whose car contained the seized ivory, was taken to Yaound?
with all these seized goods which were kept at the Ministry of Forests and
Wildlife.
Following the arrest of these last, the driver and an ivory dealer
suspected of transporting illegal wildlife products, officials of the
administration immediately ensured that legal proceedings against them were
conducted, according to the wildlife law, taking into account the links
that this affair had with a superior officer of the national gendarmerie.
The support agency responsible for enforcing the wildlife law (LAGA),
provided wildlife officers with technical assistance in dealing with this
case.
Wildlife Law
Some reports indicate that the colonel is very involved in this matter and
environmentalists are seriously embarrassed by the presence of a military
vehicle once again in a case of wildlife trafficking.
In 2014, at a checkpoint in Nsimalen, 185 ivory tusks were seized in
another military vehicle.
There is growing concern about this state of affairs, as the military seems
to be intimidating wildlife officials so that they are afraid to initiate
legal proceedings against them.
According to Ofir Drori, founder and director of the Eagle Network, a
network that brings together wildlife enforcement agencies in several
countries, ?The wildlife administration officers did a very good job, given
that a soldier was involved in this case, insisting that legal proceedings
against all those involved should be strictly followed."
The 1994 Wildlife Act states that any person found in possession of all or
part of a protected wildlife species is considered to have killed or
captured that animal and is therefore liable to imprisonment for up to
three years and a fine up to 10 million FCFA.
The law further provides that the penalty is doubled when the offense is
committed by a law enforcement officer.
The purpose of this law was to deter any attempt, but many felt that in
order for it to be effective, it must be applied correctly.
https://www.alwihdainfo.com/Cameroun-Djoum-Un-colonel-cite-au-tribunal-pour-trafic-faunique_a61720.html
————————————-
This news service is provided by Save the Elephants.