IB Times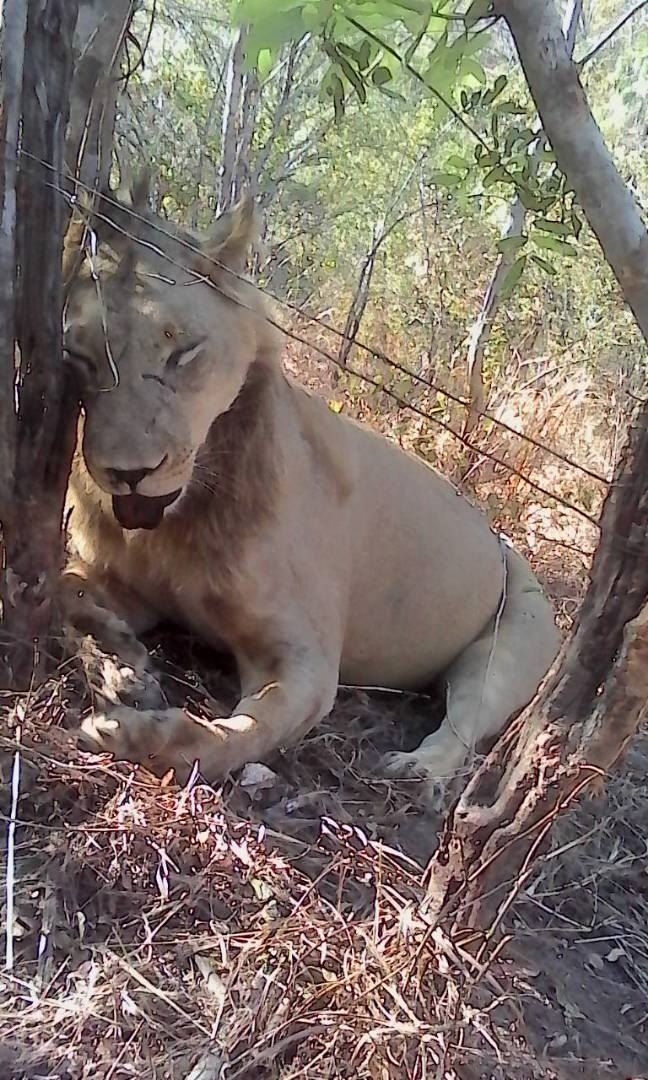 The wires had cut into the animal's stomach and torn open its neck.
By Isabelle Gerretsen
A lion died after he was ensnared around the Nyanayana river in Zimbabwe on 2 August.
Shocking photos of a dead adult lion wrapped in snares by a river in Zimbabwe have emerged.
Photos shared by an animal welfare fund have revealed the torturous devices used by poachers to trap wildlife in African national parks.
The Kariba Animal Welfare Fund Trust released several pictures of a full-grown male lion with cables wrapped around his neck and stomach. The organisation said the animal is believed to have died after the wires tore open its throat.
"This magnificent beast did not stand a chance of survival with not 1 but 2 wires wrapped around him," a post read on the trust's Facebook page.
"He managed to break that off after it had sliced through him leaving his stomach half hanging out. During this time he then had cables wrapped around his neck which finally finished him off.
"The only insignificant small mercy was that he died after feasting on an impala that was also snared," the trust added, sharing a photo of the carcass that the lion ate for its last meal.
The lion was on his own and it is not clear whether he belonged to a pride living in the quarry.
After the animal was found, rangers immediately destroyed the carcass so that "no one could gain from any part of him."
Kariba trust said the Nyanayana river, the area where the lion was discovered, is "notorious for snare laying"and other forms of poaching.
A week before the lion's death, rangers had swept the area and removed a large number of cable snares, according to the trust. Wildlife managers urged people to come forward if they had any information on those responsible for trapping animals in the area.
Snares cut through the lion's stomach and neckFacebook/KaribaAnimalWelfareFundTrust
Kariba Animal Welfare Trust
http://www.wildzambezi.com/directory/161/kariba-animal-welfare-fund-trust-kawft
The Kariba Animal Welfare Fund Trust (KAWFT) was formed in 2010, by a group of Kariba residents, for the purpose of treating and helping Kariba's wildlife and enabling a swift response to any animal welfare emergency in the area.
Prior to this, whenever assistance to a wild animal in need was required, there was always a frantic rush by a group of Kariba residents to raise funds to pay a vet to come out from Harare to dart and treat the snared or injured animals. Vets could take 3-4 days to get to Kariba due to prior work arrangements and the injured animal would be difficult to locate. Its suffering was prolonged by waiting for treatment.  Transport was also costly.  Although the vets very kindly donated their time, the cost of the fuel would need to be covered.
KAWFT sent out an initial plea for donations to purchase a dart gun and supporting equipment and drugs.  The organisation then sponsored a resident of Kariba to partake in a dart course and qualify. The response from the public was very positive and a dart gun was purchased along with the necessary drugs.
Now when reports of snared or injured animals are received, KAWFT along with the Zimbabwe Parks & Wildlife Management Authority (ZPWMA) follow up and if darting and/or medication are required we deal with the situation.
In addition to our animal welfare activities, our projects include anti-poaching patrols and creating community awareness about animal welfare and the need to keep the environment of Kariba clean.
KAWFT works in conjunction with Zimbabwe Parks and Wildlife Authority in patrolling the area around Kariba for signs of poaching. A team consisting of Parks personnel and KAWFT "Scouts" are out 5 days a week in various areas around Kariba looking for and removing snares  as well as seeking to curtail any illegal wildlife activities.
The organisation also puts out regular notices warning the public of any issues relating to the welfare of wild animals in the area, and the need for a healthy environment.  It reports offenders to the authorities and encourages local businesses and community leaders to undertake regular "clean-ups" to ensure that the risk of wild animals becoming scavenging "pests" in the town, is reduced.
Cooperation with the Parks Authority – In all its activities, KAWFT receives help, encouragement and guidance from the Kariba National Parks Area Manager, and has drawn up a Memorandum of Understanding with the Zimbabwe Parks and Wildlife Authority.  KAWFT recognises that boats and vehicles are essential for National Parks lake and land anti-poaching activities and,  thanks to positive and continued response from the public and businesses within and outside Zimbabwe, has been able to refurbish  ZPWMA patrol boats and vehicles in the Kariba area.