Let's hope we don't get the overwrought about this one. It happens all the time in Zimbabwe. Lions are hunted. This one happens to have been given a name. Not something to be celebrated but not something that should become a reason to derail constructive debates on sustainable conservation. KS
BBC
It is not yet clear who may have paid to shoot Xanda. A professional hunter is said to have reported the death to the authorities and returned the lion's collar.
The alleged killing comes two years after dentist Walter James Palmer, from Minnesota in the US, sparked an international outcry by killing Cecil, a 13-year-old lion who was a major tourist attraction in the area.
His home and dentistry practice were targeted by protesters after his identity surfaced in the press.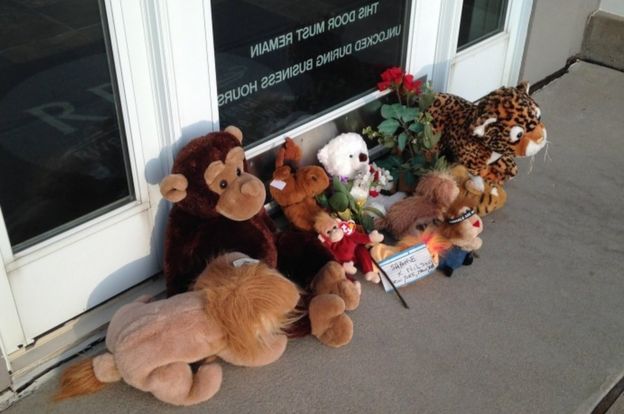 At the time it was reported that the lion had been shot with a bow and arrow and did not die immediately. He was followed for more than 40 hours before being shot with a rifle.
Johnny Rodrigues, the head of Zimbabwe Conservation Task Force, told the BBC's Newsday programme that the lion had later been beheaded and skinned.
Mr Palmer was believed to have paid $50,000 (£32,000) to hunt a lion in Zimbabwe's largest game reserve.
Huffington Post
Cecil The Lion's Son Xanda Shot Dead In Zimbabwe By Big Game Hunter
Xanda had several young cubs.
The oldest cub of Zimbabwe's beloved Cecil the lion has reportedly been shot dead by a big game hunter.
The post added Xanda, who was killed just outside the Hwange National Park in north west Zimbabwe not far from where his father was killed in 2015, had several young cubs.
It asked: "When will the Lions of Hwange National Park be left to live out their years as wild, born free lions should?"
Andrew Loveridge from the Department of Zoology at Oxford University, which has a team supplying and fixing collars which monitor the lions in the Hwange National Park, told The Telegraph the death was discovered because Xanda had been wearing an electronic collar, which Cooke handed back to researchers.
He said: "I fitted it last October. It was monitored almost daily and we were aware that Xanda and his pride was spending a lot of time out of the park in the last six months, but there is not much we can do about that.
"Richard Cooke is one of the 'good' guys. He is ethical and he returned the collar and communicated what had happened. His hunt was legal and Xanda was over 6 years old so it is all within the stipulated regulations."
According to the newspaper, Cooke has not revealed the name of his client.
The death of Xanda's father Cecil caused world outrage after it emerged the 13-year-old protected male had been destroyed for sport by an American dentist on a hunting trip to Zimbabwe.