Daily Nation
Police, soldiers hunt suspected Al-Shabaab terrorists after raid
Thursday July 6 2017
A contingent of security personnel was on Wednesday deployed to hunt suspected Al-Shabaab terrorists who killed three police officers and razed a police station.
In the Wednesday 5am incident at Pandanguo village, Lamu West Sub-County, the attackers commandeered a police vehicle and burnt a communication mast.
A fourth officer sustained "serious injuries" while another was missing, said National Police Service spokesman George Kinoti.
He added that 14 others survived the attack unhurt.
Mr Kinoti also said an unknown number of terrorists was killed following hours of counter-attacks launched by reinforcement teams.
"The attackers used RPGs (rocket-propelled grenades) and other small arms in the attack in which several tents were destroyed," said Mr Kinoti in a statement.
He added: "The operation is on."
The statement was dispatched at 5:20pm, suggesting that the security officers were still pursuing the terrorists 12 hours after the attack.
A separate source, however, said six officers were seriously injured.
"An unknown number of officers and villagers are missing," said the source. "Some of the injured persons have been taken to Witu Hospital."
Coast police bosses declined to divulge more information, with regional deputy police commander Akello Odhiambo only saying: "We cannot give much information as per now.
"Our team is on the ground."
The director of Operation Linda Boni, which is under way in Lamu County, said a sizeable number of unidentified people suspected to be Al-Shabaab attacked the police station at around 5:30am.
Mr James ole Seriani said security officers — including Kenya Defence Forces (KDF) soldiers and officers drawn from the Kenya Police, Administration Police and other units — were dispatched to the ground to pursue the raiders.
Three construction workers who survived the attack at Pandanguo village in Lamu County on July 5, 2017. PHOTO | KEVIN ODIT | NATION MEDIA GROUP
Pupils from Kakate, Maleli, Rehema, Furaha, Sendemke and Soroko primary schools said they had been asked to vacate the institutions after the attack.
Mr Seriani said the missing included villagers who fled immediately after the attack. He said there were no reports of death or injury so far but he would give details after the manhunt.
"We have sent enough reinforcement on the ground to deal with the culprits," said Mr Seriani, adding that the villagers were reportedly hiding in the thick bushes and would return once the situation calmed.
Construction workers at Pandaguo Primary School narrated their ordeal.
Mr Muthui Mukiti, Mr Shaffy Bulo and Mr James Musingili said they locked themselves in a classroom and remained silent as the terrorists torched a nearby communication mast.
"We heard huge blasts and saw the mast being reduced into a shell," Mr Mukiti told journalists in Witu, some 20 kilometres from Pandaguo, last evening. "About 40 Al-Shabaab were guarding the mast as it burnt while about 30 were outside the classroom where we were hiding."
The workers, who were rebuilding a classroom torched by the terrorists last year, only managed to flee to safety at 7:30am after the attackers had left.
"We crouched in the tall grass until the KDF arrived," said Mr Mukiti.
The three alerted the soldiers that a police vehicle that had been commandeered had got stuck.
The attackers, they said, seemed not to be in a hurry.
"They were both young and old men and some spoke fluent Kiswahili," said Mr Bulo.
"They wore military jackets and civilian trousers and were heavily armed.
"They divided themselves in groups of 30 to 40. They were about 300. I have never stared at death like that."
He said the attackers only left after they saw armoured personnel carriers arriving.
Only a week before, four police officers and four pupils were killed when a police lorry they were travelling in ran over an explosive suspected to have been planted by Al-Shabaab on the Basuba-Kiunga road at Mararani in Lamu East.
BBC
'Al Shabab' militants in day-long battle with Kenyan forces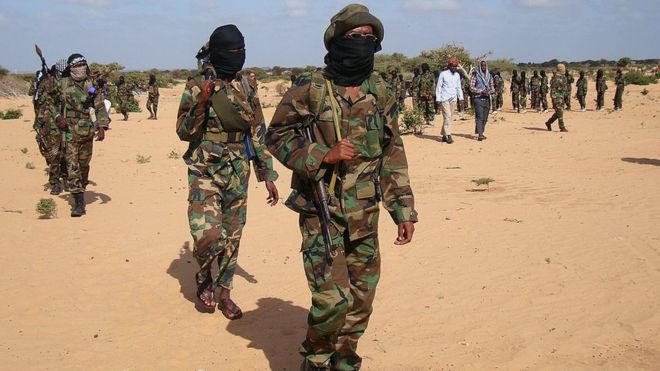 Kenyan security forces have been battling suspected al-Shabab militants for more than 10 hours after they staged a dawn attack on a police post near the coastal town of Lamu.
The latest fighting is reported to be in Boni forest, which straddles the border with Somalia.
Three police officers are confirmed dead and one seriously injured, according to a statement released by the Kenyan police.
Al-Shabab has claimed responsibility.
The Daily Nation newspaper reports that some 200 attackers were involved in the fighting.
It quotes a local official as saying that an unknown number of villagers are also missing.
A local communication mast has been destroyed, making it hard to get accurate information from the area.
Al-Shabab has attacked Kenya several times in recent years.