BBC
Somali president seeks revenge
Somalia's President Mohamed Abdullahi Farmajo has said that al-Shabab "won't get away with" Thursday's attack on an army base in which at least 38 people died, the Reuters news agency reports.
Al-Shabab said 61 soldiers were killed in the early morning raid about 70km from the north-eastern town of Bosaso, but local security officials have said the death toll was lower.
In a statement, quoted by several news sources, Mr Farmajo said:
This once again proves that the enemy we are facing is dangerous, is bent on causing harm to the peace loving people of this country and must be fought with by all means.
We must show no mercy in dealing with al-Shabab."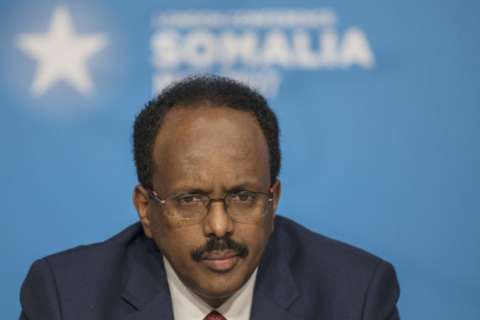 Reuters
Al Shabaab kills 38 in Somalia's Puntland – military
BOSASO, Somalia Al Shabaab militants killed 38 people, mostly soldiers, in an attack on a military base in Somalia's semi-autonomous Puntland region on Thursday, an army officer said.
The killings took place when the Islamists attacked and took over the town of Af Urur.
"Now we confirm 38 people, mostly soldiers, died and 18 others were wounded. I believe some were captured alive and taken away," Major Mohamed Abdi, a Puntland military officer, told Reuters.
"Numerous, heavily armed al Shabaab fighters attacked us from every direction and after hours of fierce battle I was among those who ran for their lives."
Bari regional Governor Yusuf Mohamed told Reuters the Puntland military had recaptured the town.
The assault came days after Puntland sentenced to death five al Shabaab members arrested on April 26 as they drove a vehicle carrying barrels packed with explosives into Bosaso, Puntland's capital.
Af Urur lies about 100 km (60 miles) south of Bosaso, near the Galgala hills, an area controlled by al Shabaab. Its fighters have attacked and captured the town several times.
"Al Shabaab fighters killed local residents of the town including elders, women and children. It is the norm of al Shabaab to kill civilians when they are defeated," a statement from the Puntland president's office said.
"Al Shabaab will regret killing civilians. We shall eliminate the fighters who hide in Puntland areas."
The al Qaeda-linked Islamist group said it had killed 61 soldiers after overrunning the military base. The numbers given by officials and al Shabaab often differ.
Abdiasis Abu Musab, a spokesman for al Shabaab, said the military had not recaptured Af Urur by force. "We just left it peacefully after killing 61 soldiers and capturing 16 military cars," he said.
Al Shabaab more often launches attacks on the capital Mogadishu and other regions controlled by Somalia's federal government. It aims to drive out African Union peacekeepers, topple the Western-backed government and impose its strict version of Islam.
Attacks are comparatively rare in Puntland, where the security forces are relatively regularly paid and receive substantial U.S. assistance.
The region is also home to a splinter group of al Shabaab that has sworn allegiance to Islamic State. Security sources say a small contingent of foreigners is there as well.
(Additional reporting by Feisal Omar in Mogadishu; Writing by George Obulutsa; Editing by Andrew Roche)