NehandaRadio
Tsvangirai, Mujuru finally seal poll pact
By Fungi Kwaramba
Opposition leader Morgan Tsvangirai and former Vice President Joice Mujuru yesterday fired warning shots at President Robert Mugabe and his warring ruling Zanu PF — signing a Memorandum of Understanding (MoU) in Harare ahead of the finalisation of the planned grand coalition as the make-or-break 2018 elections approach.
This comes as the mindless bloodletting that is devouring Zanu PF has escalated in the past few weeks, resulting even in the party's national political commissar, Saviour Kasukuwere, coming under serious pressure to resign from his post over a slew of charges — including bizarre claims of plotting to oust Mugabe from power.
Describing yesterday's developments as historic, a buoyant Tsvangirai said the two opposition leading lights had decided to join hands after realising that Mugabe and Zanu PF had "no clue" about how to end the myriad challenges afflicting Zimbabwe.
"We have chosen to give hope to the people of Zimbabwe … that indeed there is a bright light at the end of this very dark tunnel.
"We have taken the first step to bring all Zimbabweans under one roof so that we can work together to remove the unmitigated repression and misgovernance that pervades our lives.
"I am pleased to inform the nation that today we have signed a memorandum with Mai Mujuru of the National People's Party (NPP) … to establish a pre-election alliance en route to the establishment of a coalition government which shall drive a comprehensive democratisation and transformation agenda.
"This is just the beginning of the building blocks towards establishing a broad alliance to confront Zanu PF between now and 2018," Tsvangirai said.
The indefatigable former labour union leader emphasised that the door had not been slammed on other smaller parties being part of the pact, with "similar arrangements" to be decided with them soon.
"While political parties have their role in nation-building, it must be understood that they are not the only key stakeholders.
"We are in this together with other key stakeholders such as traditional leaders, the Church, labour, vendors, war veterans, civic society, business and the generality of Zimbabweans.
"This is our collective struggle and I call upon the people of Zimbabwe to join hands with us and play their part as well so that we can reclaim our country, our freedom and our dignity," Tsvangirai added.
"Even at the ripe old age of 93, president Mugabe knows that the country's crisis is unsustainable. Every Zimbabwean from every station of life knows it too.
"So, we should all stand together in unison and say enough is enough. As president Mugabe enters the sunset of his life, it is incumbent upon all of us to pick the pieces and rebuild our country together.
"I hope the understanding we reached today, and which we will reach with many others, will culminate in a solid political co-operation agreement that should usher in a new governance culture in our country," he said further.
On her part, Mujuru promised "greater things" for long-suffering Zimbabweans.
"We were being asked by people wherever we would go about when we would form the coalition. It took about six months to discuss the coalition.
"We know your expectations are very high … what we want to see is a greater Zimbabwe again … We are going to deliver a new Zimbabwe," she said.
According to the two opposition leaders, the MoU would act as a roadmap towards forming the planned grand coalition which is expected to be in place before next year's eagerly-anticipated national elections.
Optimism has been high ever since Tsvangirai and Mujuru publicly flaunted their readiness to join forces against the ruling party, when they appeared together in Gweru last August.
In a move that political analysts described as "very significant", Mujuru held hands and also joined Tsvangirai then during a massive demonstration in Gweru that was organised by the former prime minister in the government of national unity's MDC.
Analysts have also repeatedly said Mujuru, whose liberation struggle nom de guerre was Teurai Ropa (Spill Blood), and whose husband Solomon was the first black post-independence army commander, could provide the much-needed bridge that opposition parties have been missing to ensure the smooth transfer of power if they win elections again.
However, they have also warned that without a broad coalition involving all the major opposition players, Zanu PF would use "its usual thuggish and foul methods" to retain power in 2018.
In 2008, her late husband Rex was accused by Mugabe and other Zanu PF bigwigs of having engineered the 93-year-old's stunning electoral defeat to Tsvangirai in that year's hotly disputed polls.
Last week, a bullish Tsvangirai vowed to finish off Mugabe and his deeply-divided Zanu PF — adding that he stood ready to lead the planned grand coalition.
Speaking in an interview with the Daily News then, Tsvangirai said he had "no doubt whatsoever" that the MDC — working together with other opposition parties — would, like it did in 2008, once again defeat Zanu PF in 2018 and bring to an end Mugabe's long but tumultuous rule.
"I stand ready to heed the calls by Zimbabweans that I lead … Indeed, when I moved across the country, the people said I should lead.
"So, if that is what people want, then I am ready to lead the coalition. But this should not be about individuals but about Zimbabwe.
"Indeed, the fight for democracy in Zimbabwe is not between Mugabe and Tsvangirai, but between long-suffering Zimbabweans and a heartless, looting Zanu PF," Tsvangirai said.
"The commitment towards forming a grand coalition is there … But we must exercise due diligence in regard to our partners.
"Imagine at the end, just before elections you have people who will say 'I was not part of the talks' … so due diligence is very important," added the dogged former labour union leader, as he explained why it was taking long to conclude the mooted coalition talks.
Soon after, Mujuru signalled her readiness to join Tsvangirai in the planned electoral pact when she said the mooted grand opposition coalition was the only way of extricating the country from its economic problems.
"As NPP, we believe that what ought to be 37 years of independence has been turned into 37 years of slavery and misery to Zimbabweans.
"We believe we have capacity as Zimbabweans to extricate ourselves out of the social, economic and political mess we find ourselves in as a result of Zanu PF's failed government.
"It is time that all progressive forces within the rank and file of opposition parties put their differences aside and face the failed Zanu PF government as a united front by every constitutional means necessary come 2018.
"Our people never went to war so that the destiny of our country can be turned into political dynasties.
"Zimbabweans deserve to be free and that freedom has to be exercised now. To that end, as NPP we urge all the progressive forces within the rank and file of the opposition parties of this country to go back to the basics of the revolutionary ideals of oneness.
"It is our belief as NPP that what divides us as opposition political parties is smaller than what binds us as a country. Our motto should therefore be united we stand, divided we fall," she said.
BBC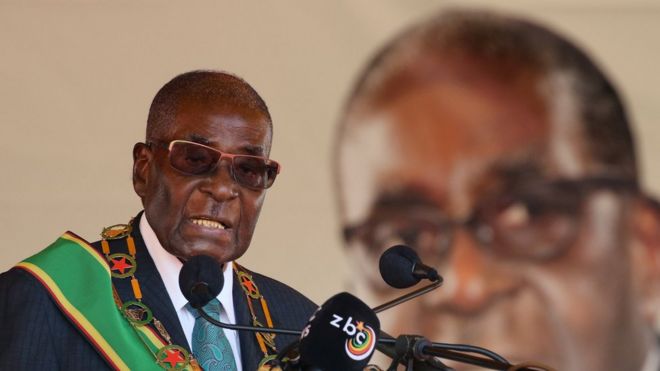 Two of Zimbabwe's best known opposition figures have agreed to form an alliance against President Robert Mugabe.
Long-time Mugabe critic Morgan Tsvangirai and former Vice-President Joice Mujuru say they will work together in next year's election.
However, it is not yet clear which of them will be the presidential candidate.
Mr Mugabe, 93, has been in power since independence from Britain in 1980 and has said he will seek re-election.
"This is just the beginning of the building blocks towards establishing a broad alliance to confront Zanu-PF between now and the next election," Mr Tsvangirai told journalists.
---
Real test lies ahead: Shingai Nyoka, BBC News, Harare

The alliance is an important first step towards uniting a deeply divided opposition.
And if this alliance succeeds it will be the first time President Mugabe has faced a united opposition on this scale since coming into power in 1980.
At least a dozen parties are expected to be part of the coalition.
Former Vice-President Joice Mujuru who was fired from the ruling Zanu-PF party in 2014 was the first to sign a pact with Morgan Tsvangirai. She says it follows six months of consultations.
A Movement for Democratic Change splinter group has now also come on board.
Divisions among the opposition have been blamed for previous electoral losses.
For the first time, Mr Tsvangirai apologised for this and accepted responsibility for the mistakes made in the past. His party has split four ways since it was formed in 1999.
Ms Mujuru's National People's Party recently splintered after less than a year.
But the real test for the opposition lies ahead. The parties still need to hammer out the terms of this alliance. In particular who will lead the coalition.
President Mugabe is a formidable opponent. He has been accused of stealing elections and using violence to stay in power.
---
Mr Mugabe has previously said he would not be losing any sleep over the proposed coalition.
Mr Tsvangirai has run against Mr Mugabe several times since he helped found the Movement for Democratic Change.
Each time he has said he was denied victory because of violence and rigging – charges denied by Mr Mugabe and his allies.
He became prime minister in a tension-filled coalition government with Mr Mugabe from 2009 until 2013.
Ms Mujuru was vice-president to Mr Mugabe for 10 years until she was fired in 2014.